Gimbal Camera Description:
Do you love take photo? Are you still find one style premium quility and reasonable camera? This Gimbal Camera designed with 128° 4K UHD Ultra Wide Angle Lens and Noise-canceling MIC Upgraded Sensor,which can meet all your need of home and travel.
[308-min Battery Life]: Equipped with 2600mAh battery, PALM 2 can last 308 minutes and even longer, granting enough freedom for your creativity.

[Upgraded Sensor]: The updated Sony sensor allows for an increased dynamic range, making your footage remarkably clear. Capture the beauty of the twilight in its entirety.

[Noise-canceling MIC]: New designed audio recording system allows a better, purer sound quality especially in quiet environment, achieving a more precise recording. Even in noisy places, you can easily capture High Fidelity audio.

[4K UHD Ultra Wide Angle Lens]: The newly designed wide-angle lens maintains a 128° super wide-angle, but with less distortion. It perfectly emulates the field of view of the human eye, capturing more memorable moments while portraying a bigger world for you.

[Wireless Connection is Hassle-free]: PALM 2 can be connected wirelessly to a smartphone via 2.4GHz/5.8GHz built-in WiFi. With an optimized transmission system and faster download speed, you can easily control the device, preview and edit footage on the APP.

[Smart Tracking]: Smart tracking makes PALM 2 automatically recognize a face, and the gimbal can lock on the target quickly and precisely. You can double tap on a target on the touchscreen to keep it in the center of the picture.

[Built-in Story Mode]: PALM 2 has various templates accessible by just one tap and various built-in shooting modes. Select one in the camera,then take video automatically. A professional and intuitive video solution at your fingertips.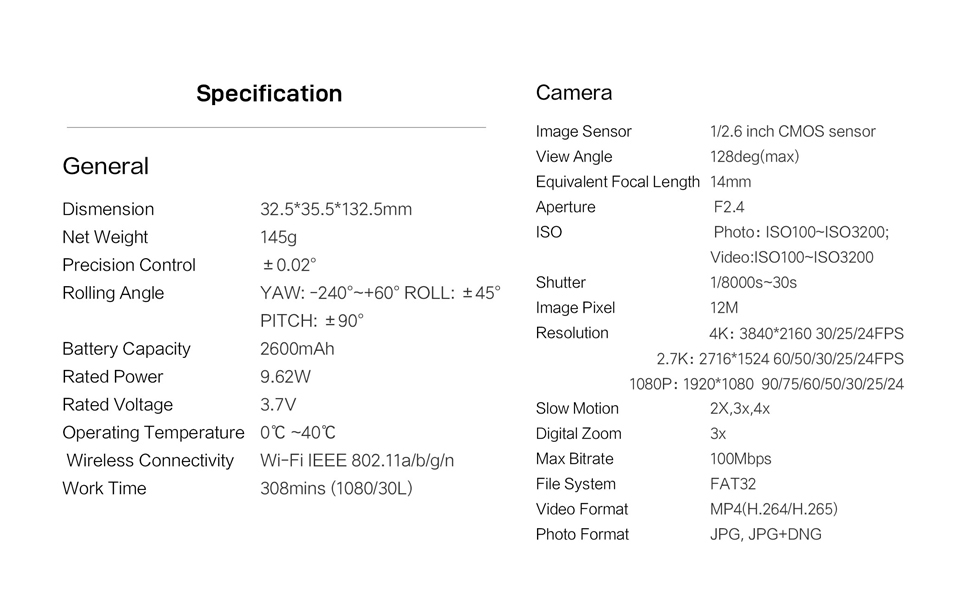 1 x FIMI Palm 2 Gimbal Camera