Portable Wheatgrass Juicer Manual Fruit Juice Extractor Stainless Steel Vegetable Juicer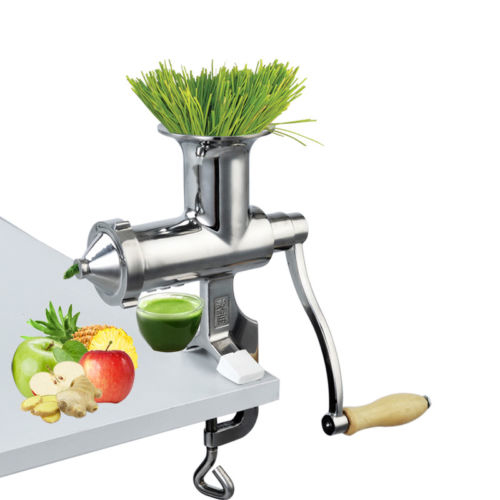 Healthy& Environmental:
With the manual design, it can save power which is healthy and environmentally friendly
Durable:
Made with the high quality and hygienic stainless steel, it has a long time life and worry it would damage during the time of using.
Portable:
It only 2.6kg weight, it is perfect for travel, home kitchen, and more.
Wide Application:
The manual juicer is suitable for berries, various fruit and vegetable varieties, barley grass, wheatgrass, leaf vegetables. It is the perfect choice for those who prefer juicy spinach, wheatgrass, or other leafy vegetables but do not want an electric juicer. A hand-operated juice press is also suitable for those who are on the road and want to eat healthily.
Easy clean:
It can be disassembled for quick easy cleaning.
Material: 304 stainless steel
Available Colours: stainless steel
Product weight: 2.6 kg
Product dimensions: size 12.6 x 7.7 inch
Feed inlet dimensions: 3.38 x 3.38 inch
1 X Stainless Steel Juicer
1 X Rubber padding
1 X Bushings
1 X Stainless steel filter
1 X Sticks for ramming
1 X Stainless steel cup for juice
1 X Brush for cleaning