US 110V 50W Multifunction Laser Pyrography Machine Gourd Wood Burning Kit Crafts Tool Kits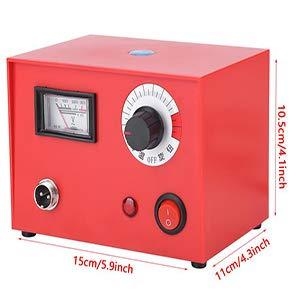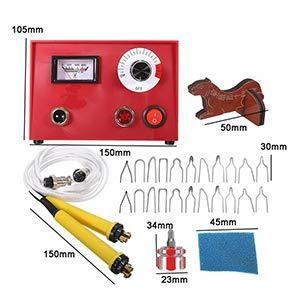 1. This New Gourd Wood Burning pens are relatively light and come with heat- and impact-resistant handle, so your hand won't get too tired from holding it. Two tool stands are also provided to rest the pen on while it is heating.
2.Quick Heating: You don't have to sit around waiting for the tool to heat up. This wood-burning tool warms up in minutes.
3.Interchangeable Tips: This wood burner has tips that offer thick lines, fine lines and different shapes and edges. You can interchange them to achieve the results you are wanting. Two practice pieces of wood are provided in the kit so you can finetune your technique.
4.Variable Temperature: Adjust the heat by switching the knob as you go for different tones in your shading. The adjustable temperature allows you to create lighter or darker burns, depending upon the needs of your project.
5.Enjoy and Share the Wood Craft Fun: This wood burning set can help you create a rustic, yet elegant craft to add to your home decor or gift to friends.
Voltage:110V
Power: 50W
Temperature:0-1000 degree
Blade diameter: 1mm
Model: XA2-F
Suitable for: professional carving, amateurs, students
Temperature: normal use temperature 0-1000 degrees, the use of high-temperature alloy pen can be baked at 1000 degrees temperature rendering, fine rendering
Pyrography pen: 2pcs professional-quality, can change the pen.Pen point: 20pcs 1 mm ordinary electric wire high-temperature alloy pens
Application: gourd, leather, straw, bark, leaves, straw, and other materials

1 x Set of Pyrography Machine