The 4ch NVR kit includes one piece of 1080P NVR and four pieces of wifi bullet cameras. Due to the waterproof and weatherproof functions, it is very suitable to install outdoor or indoor. Without cable, it is very easy to install for most of people to install. Clear pictures and 4 HD cameras can meet all of the requirements in daily life. This surveillance system has the night vision function. Even in the dark night, you can see it very clearly. It is very suitable for villa, home, office, store, warehouse, or anywhere.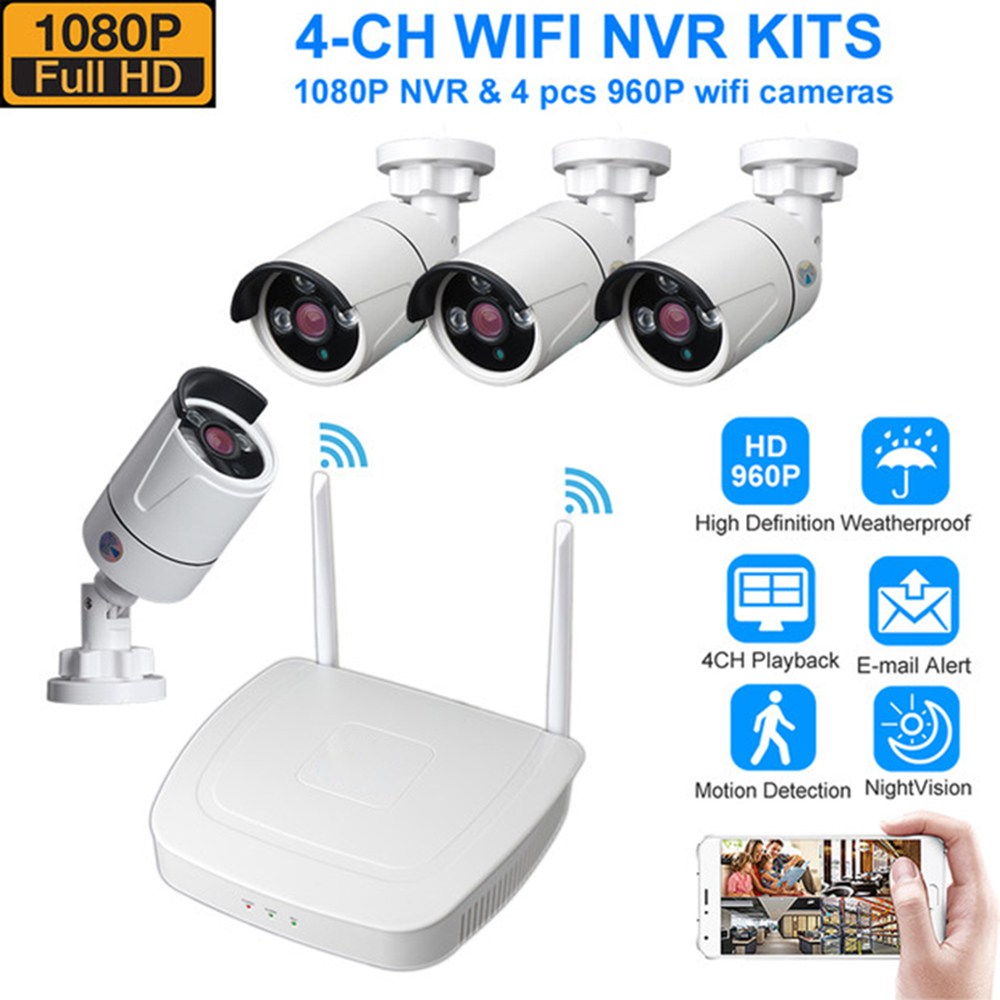 【Easy operation& connection】
The 4ch 960P wifi NVR kits is easy to install without cable for most of people. The system offers more powerful radio signal coverage and allows for fast and easy connection
【960P Wireless Surveillance Cameras
】 Wireless HD 4-channel security camera system for villa, home, office, store, warehouse or anywhere (indoor / outdoor).
【Remote Control Anytime and Anywhere】
With wireless surveillance camera system, you can watch live video anytime, anywhere, from your phone and tablet (available for Android and IOS systems ). Download the free app from Android Google Play or Apple App Store. Register a new account, and add the device ID. You can watch the video over the Wi-Fi or 3G / 4G network. PC / Laptop
【Motion Detection】
The wireless IP camera system supports synchronized playback, video capture, and video detection. You can receive email alerts about motion detection or an application alert when you set it up. Record and play easily on your mobile devices. Stream video on your smartphone, tablet and PC. Keep an eye on your stuff everywhere, anytime
4 Channel 1080P NVR
1. 4CH 1080P Wireless NVR
2. 3520D processor and integrated Linux operating system
3. Supports preview / recording / video playback / USB backup
4. Android / IOS / Pad / PC remote view support
5. Network protocol: UPNP, SMTP, PPPOE, DHCP, etc.
6. 1 SATA port, up to 4TB, 1 USB 2.0 port
7. Power input: DC12V-2000mA, output: 100-240V
1. Image sensor: 1/4 "color CMOS
2. Image Resolution: 1280 * 960P
3. Lens: 3.6mm or 4mm lens
4. Night Vision: 98 ft (30 m)
5. Minimum illumination: 0 lux (IR enabled)
6. Weather resistant: yes
7. Power input: DC12V-1000mA, output: 100-240V
1 x 4 channel 1080P NVR
4 x 960P IP Cameras
4 x 10 foot power supply (12V-1000mA) for cameras
1 x 3.3 ft (12V-2000mA) Power Supply for NVR
1 x Mouse
1 x Screw pocket
1 x User Manual